Cutlist Plus Fx Activation Code
This download includes the full program, version fx 18.0.3. By entering an activation code, it will. Autosim 200 crack serial sites. Cutlist plus 2009.5.5. Cutlist plus fx activation code for Mac allows users to customize a number of appearance features for their Mac Docks. The package is well designed and easy to use, making it a good option for those looking to change their. Serial lock on flaming cliffs 3. Cutlist Plus 2011 Fileshare Grasu and download XXL Pentru cutlist fileshare.
Evergreen Activation. You no longer need to get a new activation code when re-installing the program.
Banding code is now shown on the banding BOM screen and printout.
Fixed bug that prevented the Restore Raw Materials command to work while Shared Materials was active.
'To Do' tracking for parts, diagrams and BOM items.Checkmark boxes on diagrams and all major lists can be used to keep track of work to be done and items to purchase.
Automatic cut part tracking.You can choose to have CutList Plus fx keep track of how many of each part has been cut, based on the diagrams you have marked as 'Done'. Or, you can keep track manually. Access this in Settings>Project>Cut Parts Tracking.
Mobile apps updated.The free companion apps for iPad, iPhone and Android have been updated to work with the new 'To Do' and cut part tracking features.
Improved error reporting when attempting to import parts that specify non-existent banding codes.
Can now Ctrl-click the check and uncheck thumbnails buttons to affect all thumbnails in the project.
Can now hide the sub-assembly column on the Take-Off list.
Import of DXF data for parts is now supported as part of the CAD Integration feature with selected CAD programs. (DXF Requires the Platinum Edition.)
When exporting DXF, it is now possible to choose which layers are included in the generated output. (Platinum Edition)
Added support for printing Unicode (UTF-8) characters.
Program now remembers document sections selected for printing from prior session.
Fixed error in diagram numbering when using the QuickPrint button.
CAD Integration. Directly open files created by select CAD software, including SketchUp (via the CutList Bridge plugin), SketchList 3D and CabWriter. Included in the Gold and Platinum Editions.
Free companion iPhone, iPad and Android viewer apps. Take projects you have created on your computer and export them for loading onto your mobile device. This lets you view your cutting diagrams, parts and bill of materials while in your workshop or at the lumber dealer. Included in all Editions.
Import raw materials. Raw materials sizes, costs and other information can be imported from a csv file. The csv file must be formatted for automated processing (rather than being set up for human viewing). Many options are available to customize how the imported information is merged into your existing database. Requires the Platinum Edition.
Raw materials database export. Export the raw materials database, or a subset of it, formatted for processing by other programs.
Multi-Core Enabled. Take full advantage of parallel processing on multi-core processors, resulting in a significant improvement in optimization times. This is an essential feature for anyone who has already invested in a PC with multi-core processors. It comes standard in all Editions of CutList Plus fx.
Multi User. Several people can share a single raw materials file over a local network, using the Gold or Platinum Editions. You'll need a separate license for each PC you install the program on. Site licenses are also available.
Jump from Part to Diagram. Diagram numbers are now displayed right on the parts list. Just hit F3 to jump directly to the diagram containing the selected part. Use F3 again to move to the next diagram for that part.
Show slice sizes on diagrams as offsets from the origin, to help set your saw fence.
Options to print four diagrams per page.
You can now include an image on the project cover page. Use this to show a photo of your finished project, or to add your business logo to the printout.
Manual unplaced parts (those you drag from a diagram to the unplaced parts list) no longer get automatically reoptimized. Instead, they stay on the unplaced parts list until you issue a reoptimize command: Layouts>Reoptimize All Unplaced Parts.
A 'skip reason' column was added to the Unplaced Parts list.
Drag and Drop editing of layout diagrams. Place parts exactly where you want them.
'Pinned' diagrams allow you to freeze selected layouts.
Automatic Snap-to-Kerf function while dragging parts.
Pricing tool now lets you apply a customer discount, either fixed amount or percentage.
Proposal has optional signature lines.
Proposal has optional expiration time period.
Proposal has option to hide all details and just show a sub-total plus taxes and shipping.
Cutting diagrams can now show through-cut 'slice' dimensions around the edges--even if the diagram was edited manually.
You can now choose the display colors for banding.
The program now remembers separate printer configurations for printing labels. This works with normal printing and the Quick Print buttons on the Layouts screen.
The Quick Print button tooltips now show the target printer.
DXF Export using metric units now includes three digits to the right of the decimal point.
It is now possible to specify different optimization settings for Primary, Secondary and other materials within one project.
Primary and Secondary materials are indicated on the layouts screen tree diagram with '(P)' and '(S)' following the material name.
For power users: Negative values are now allowed for banding thickness decrement. This has the effect of expanding the part when placed on layout diagrams. Useful when your banding machine removes more material than the banding adds back.
Includes a brand new optimization algorithm choice that balances cutting complexity vs waste minimization.
Re-designed screen for setting layout optimization options is easier to use.
When importing from database programs (such as Access), a '-1' will now be the same as 'yes' for checkbox fields.
New option to set the preferred layout style for each material.
New option to force the alignment of parts on cutting diagrams to the bottom left corner.
Can now specify the font color used for 'bold' style part numbers on diagrams.
New option to customize the layer names in DXF Export.
Material type and name columns added to the skipped parts list.
Fixed bug in calculation of BOM summary total line.
Improve alignment of text in printed layout diagrams.
When shading alternate rows in printed output, notes row should have same shading as main item.
Fix display of final cut dimensions on printed labels.
Allow for minimum font size on layout diagrams as small as 3 pts.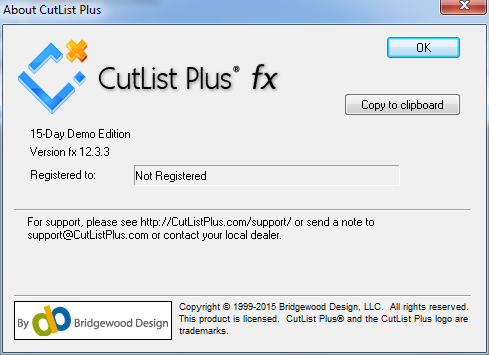 New, more graphic style of labeling cutting diagrams.
Option to shade alternate rows in printed ouput.
DXF Export can now create separate folders for each material.
Option to specify the <Info> font on printed labels. Perfect for use with barcode fonts!
New lineal stock usage reporting for dimensioned lumber.
New Reports feature: material usage, number of cuts, length of cuts, etc.
Enhanced Banding feature: new 'short/long' display style, redesigned banding editor panel, detailed banding reports. Banding is now included in Gold and Platinum only.
DXF Export improvements: part number labels on separate layer, summary information in DXF file.
New advanced importing tools for use with CAD software: import banding from four separate columns, adjust part dimensions during import based on banding thickness, determine part thickness based on the imported material name.
Layout algorithm tuning: 'use off-cuts first' performance greatly improved, new option to force part rotation on a per-material basis (for veneer).
Printed labels now include 'notes' and material name.
New 'Info' column for user-defined text.
Many display improvements.
Skipped parts are now highlighted on the parts list.
Sub-assembly name can be printed on layout diagrams.
New glued-up panel wizard for wide panels.
Fix for problem with some HP print drivers.
New Platinum Edition exports layout diagrams as DXF files.
Tools>Renumber Parts now works on Labor parts.
Intelligent Reoptimization™ significantly speeds up reoptimization after minor edits.
Layouts QuickPrint allows you to print selected diagrams.
Part labels QuickPrint.
AutoRotate parts.
'Has Grain' setting can be specified for sheet goods.
SG layout diagrams may be displayed with the length oriented vertically.
Layout diagrams can display grain direction.
Undo/Redo now supported for editing project settings, component setup, general preferences, adjust inventory, vendors, etc.
Inventory adjustment now has a flexible size-cost matching mode, with user override available.
Multiple rough lumber size-cost items with the same nominal size are now allowed.
Increased maximum dimension to 1,000 feet.
Greatly increased internal precision.
Removed constraint on maximum thickness.
'CAD style' dimensions are a new option for input and display.
'Default Data Entry Units' is no longer used.
More detailed messages are provided for edition limits warnings.
Cutlist Plus
New feature: Price estimating tool.
New feature: Customer proposal generator.
New feature: Labor cost tracking.
New feature: Stock trim (around the outside edge of a sheet of plywood).
New raw materials column: 'Bin' allows you to keep track of where each size stock is located. Or, use it to track vendor part numbers.
New column in all grids: 'Notes' allows you to enter any text you wish.
New feature: keep track of which vendor supplies you with each item in your raw materials list.
New raw materials columns: 'Markup' and tax information columns. Used by the pricing and proposal tools.
Updated interface is even easier to use.
Improved Printing and Print Preview. Now, specify the page orientation for each section of the printout.
Plus, many minor enhancements.